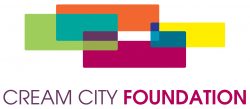 Cream City Foundation mobilizes philanthropic resources and fosters strategic partnerships by harnessing the pride, passion, and commitment of lesbian, gay, bisexual, transgender and queer+(LGBTQ+) people and their allies to advance human rights and respond to the human needs of LGBTQ+ people in Southeastern Wisconsin. The Foundation began in 1982 with only $500 in seed money and has granted more than $1.5 million to life-affirming, life-sustaining and life-celebrating programs for the LGBTQ+ communities of southeastern Wisconsin.
The Foundation's work addresses the economic, health, safety and equity needs that prevent our LGBTQ+ communities from achieving full inclusion and acceptance. Our work is not single-issue-driven. Instead, it focuses on creating whole lives where the economic, health, safety and equity needs of our LGBTQ+ communities are met, and individuals can flourish.
Cream City Foundation has developed three elevated priorities that will guide our fundraising and grant-making efforts. These priorities guide our proactive convening work to shine a light on the most critical issues that need to be addressed in our communities. The three elevated priorities are Equity, Health and Prosperity.