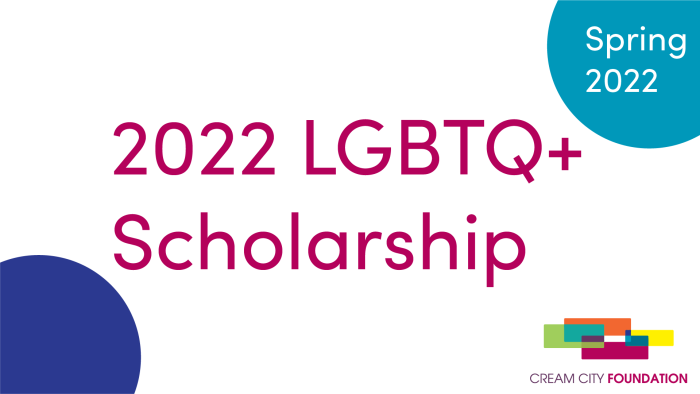 The Cream City Foundation LGBTQ+ Scholarship Program was founded in 2015 to support lesbian, gay, bisexual, transgender, queer+, and allied student leaders in Southeastern Wisconsin. Scholarships are for any post-secondary education at the undergraduate, graduate, or post-graduate level.
Cream City Foundation is excited to announce the program will continue for 2022. With over $20,000, we can continue our commitment to strengthen educational opportunities for LGBTQ+ students in Southeastern Wisconsin. We are to continue this because of our amazing donors that have helped fund this program. We can't forget to mention that our incredible Board of Directors also pledged $6,500 to support the 2022 Scholarship Program.
The application will go live below on Friday, April 1st, 2022, at 9:00 a.m. The application will close at 11:59 p.m. on Sunday, May 15th, 2022. We will announce recipients of the 2022 Scholarship at the end of the summer. Funds awarded are intended for the Fall 2022 semester.
If you have questions, please reach out to our Development Manager, Logan Self, at Logan.self@creamcityfoundation.org. You can also check out our Scholarship FAQ page for more help!