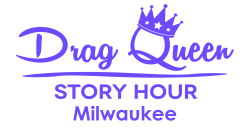 Organization contact: Edie Pasek
Organizational email: milwaukee@dragqueenstoryhour.org
Organization Description:  A fun and entertaining way to educate all ages about progressive social justice & human growth and development issues through literature and reading. In spaces like this, kids are able to see people who defy rigid gender restrictions and imagine a world where people can present as they wish, where dress up is real.
Organization Impacts:
Open to the public to engage the widest audience
LGBT visibility in area that lack representation
Point of first contact for families seeking LGBT information
Providing safer spaces for children to express themselves
Intersectional reading list that covers a range of topics
Educating families together, and as individuals
Support Drag Queen Story Hour Today!